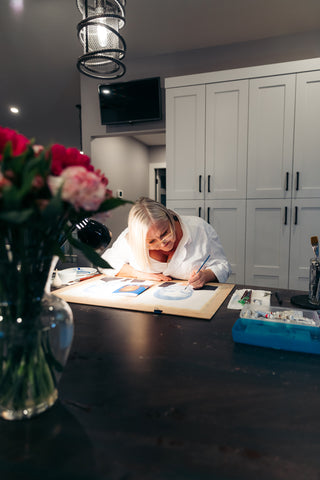 Meet the Talent
I love art. I have always been creative and highly entrepreneurial. 
As a child, I filled summer days taking painting classes in the park.  I was proud when a painting I completed in fifth-grade art class ended up framed on the wall of the school nurse's office. As a teenager, I painted unique artwork on clothing and sold my creations to classmates. 
After university and several successful entrepreneurial ventures, I was able to retire early, so I started painting again. As you can see, has evolved into yet another business venture, only this time, my daughter is the executive. I get to do most of the fun stuff — painting and making local art.
I tend to get lost in the music, and that's when my creativity starts to flow, and the art designs start to take form. 
When I'm painting, my preferred medium is watercolor art. The technique involves strategically applying layer upon layer of paint to create realistic contrasts, depth, and dimension. Each layer of paint must completely dry before the next layer is applied. This has really helped me develop the patience I have lacked for a good portion of my life!
Our Story
Creative Muse was born as the world experienced lockdown due to COVID-19 and all the weirdness of those times. So, we've embraced a simple idea everyone can relate to; having fun together while enjoying all forms of Canadian art.
Our Canadian artist, Carole Holmes, painted prolifically during the months of social isolation, and soon an e-commerce platform was born. Initially, portrait prints and abstract art paintings were offered online, followed by wearable art and Okanagan gifts. The brick-and-mortar store emerged as the world began opening up again, and many additional products were brought into the mix to compliment the artwork.
There were portrait themes in the early days.  First, it was political art in the form of politicians because that's what we watched when television was our companion through COVID.  Then it was media personalities, pop culture art, and exceptional people who were making the news.  And then came the musicians; old and new, dead and alive, legends and soon-to-be legends.  Often the conversation piece in our store, customers pride themselves in identifying the personalities in the portraits.  And that's our goal — customers should have fun when they shop at Creative Muse, a Kelowna local boutique store.
Unique products for unique customers
Growth has been organic, and our customers have been immensely helpful in guiding our direction by critiquing our progress; offering suggestions, and asking for things they'd like to see next, such as local Kelowna jewelry, watercolour prints, and gifts made in Kelowna.
Located in a high-traffic shopping corridor in Kelowna, BC, known as Pandosy Village, the summer days bring many out-of-town customers to our local boutique store. Our goal is to serve these same customers once they return home from a vacation through our online store.  Our customers throughout North America can enjoy access to our unique products, which are shipped carefully and quickly all year round.
Bringing out your creativity
Our desire is to bring out the creativity in our customers because we all have some of that inside us, albeit often hidden away.  Whether pairing a funky pair of our custom-made in Canadaearrings with a bright coloured dress or turning one of our DIY posters into a gorgeous piece ofpop culture wall artfor their home, our store has something for everyone.
Forever evolving
At Creative Muse, we want our customers to enjoy our uniqueness, chat about the recognizable people in our art (such as ourRuth Bader Ginsburg t-shirts), laugh at some of the funny gift items we offer, and come back for more because we are forever evolving our selection of local art and Okanagan gifts.